Reverend Dr. Pamela Carrington Holder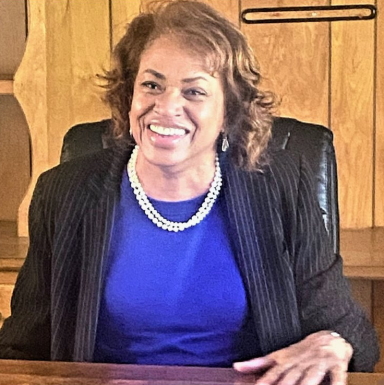 The Rev Dr. Pamela Holder is a teacher, preacher, and singer upon whom God has poured out His Spirit to serve the present age.

Born in Queens County, New York to the late Reverend Dr. Curtis M. Carrington, Sr. and to Mrs. Shirley Carrington of Greensboro, Dr. Holder grew up in a musical environment releasing several recordings with her family. They traveled locally and internationally to share the Gospel of Jesus Christ. In addition to singing, she studied violin.

On March 17, 2001, she preached her introductory sermon, "The Rock that Rocked the Jailhouse." The High Point Educational and Missionary Baptist Association ordained her July 24, 2003. She is the former President of the Woman's Auxiliary of that Association.

Dr. Holder has served in leadership capacities for the Woman's Baptist Home and Foreign Missionary Convention Auxiliary of the General Baptist State Convention of North Carolina. She continues to serve the Woman's Auxiliary as a member of the Executive Board. She also serves on the choir for the Lott Cary Convention.

Dr. Holder served as staff Chaplain at Cone Health from 2007-2021 and as a former teacher she taught middle and high school English and Speech.

She is the proud mother of one daughter, Bermia, of Atlanta, two granddaughters Tajel of Atlanta, Kiana of Lansing, Michigan, and a great-grandson, Maison.

Dr. Holder has ministered through singing and preaching, locally and internationally. Nevertheless, in all that she does, her primary goal in life is to influence others to pursue a personal relationship with God through salvation in Jesus Christ.

A woman of excellence, she believes all things should be done decently and in order. 1 Corinthians 14:40
"To God be the Glory!"
Pastor Pamela Carrington Holder
Bethel "A" Baptist Church
290 Oakdale Street * Brevard, NC 28712
(336) 456-9653
If you would like to contact our Pastor please email her at Pastor@BethelA.org
"Serving Above and Beyond the Call of Duty"
For I reckon that the sufferings of this present time are not worthy to be compared with the glory which shall be revealed in us.  Romans 8:18