Obituary: Charles Edward Whitmire Jr. "Jett" – 1933 ~ August 7, 2022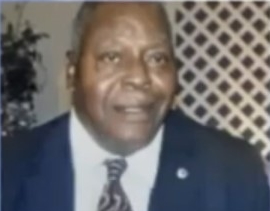 Charles Edward Whitmire, Jr. (Jett), passed away on August 7, 2022 in Hospice Care at the Solace Center in Asheville, North Carolina.
He was the husband of Nannie Jane Whitmire (Nan) of 61 Jordan Lane, Brevard, N.C. with who he shared 61 years of marriage. Charles was born in Brevard, N.C., he was the son of the late Charlie E. Whitmire, Sr. and Albertha (Bertha) Sharp Whitmire.
Charles worked for P.H. Glathfelter and later retired from Olin/Ecusta.
In addition to his wife, Charles is survived by his sister, Ella W. Jones and brother, Johnny Mack Whitmire; two daughters, Jini Whitmire-Onderdonk and Janice Foster. 3 stepsons: Lester R. Baker, Boyce Baker, David Baker, 11 grandchildren, 11 great-grandchildren, 2 great-great grandchildren, a host of neices and nephews and other relatives and friends.
He was a member of the Bethel "A" Baptist Church. He coached Brevard Youth Football for 35 years. He was also a member of the T.C.I.O. (Transylvania Citizens Improvement Organization. He performed at the Brevard Music Center as a singer for a benefit of the Rise and Shine Program. He also Sang for a benefit of the Rosenwald Alumni Association. One of his most prized singing engagements was at Bethel "A" Baptist Church where he got to sing one of his favorite songs: "I know the Lord will make a way somehow".
Funeral services were held at Bethel "A" Baptist church on Saturday, August 20, 2022 at 1:00 p.m. (See the video below).
---
https://everloved.com/life-of/charles-whitmire/obituary/
https://www.transylvaniatimes.com/obituaries/charles-edward-whitmire-jr-jett/article_99585ee2-1d8e-11ed-aeac-53aa5b0cb875.html