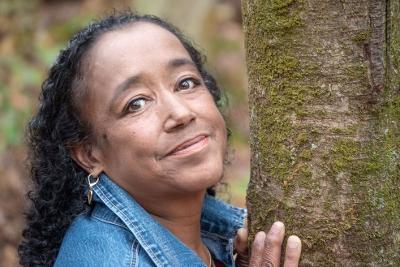 Obituary: Angela Dorene Cash – May 16, 1963 ~ February 6, 2022
Angela Dorene Cash, who is known by "Angie" born to Homer William Cash, Sr and Barbara Ann Cash in San Francisco California, she was the fourth child born out of five children. She was Raised in Brevard NC. While growing up in Brevard, Angela attended church, VBS and Sunday school, at Bethel A Baptist Church.
She was a 1981 graduate of Brevard High School. Upon graduation, she went to the Art Institute Of Atlanta, receiving her Bachelor's Of Art in Graphic Art Design. She served in the military, in the army at Fort Hood military base in Killeen, Texas in 1986 ………. She went to Sam Houston University in Huntsville, Texas from the fall of 1987 through the spring of 1989 received her business administration degree in Art.
Angela was able to use her talent and skills here in the community as she helped design t-shirts for family reunions, the women conferences in 2016 – 2019 of the Mud Creek Missionary Baptist Association and helped design a business logo for the Ecusta Credit Union, only to name a few things she did in her skill set. She worked at DuPont and Asheville Industries back in the 1990's.
She loved dancing, laughing, joking, family, and her friends. She was always a delight to be around – quiet spoken at times, but had such a great sense of humor and knew how to brighten up your day!
Angela later married, gave birth and raised two beautiful children, Bashia and Alexander Gandy, who now lives in Simpsonville South Carolina. She was an amazing mother to them, who loved, protected and celebrated her children and was supportive of their dreams, goals and achievements.
Five years ago, Angela moved back home to live with her mom and dad in Pisgah Forest NC. She loved her family and was very close to her siblings, and her bonus brother, Lamar Moss. She loved her childhood friend, Kim S Howell. Eventually, her sister became her caregiver during her time of sickness – which was the beginning of a new special bond! Angela was sweet, kind, loving, encouraging and had a BIG heart!
Angela attended New French Broad Baptist Church for a while who enjoyed hearing the preached word of God, which was the beginning of her journey with God! Later followed her sister and attended St John Baptist Church in the year of 2020, where she proudly became a member and her sister became her Pastor, Gwen Jones.
The word that was planted in Angela's heart in the beginning, started growing as she developed a zeal for the Lord – the transformation, and excitement was evident, as she totally surrendered her life to the Lord!
Angela became involved in church, especially in the women ministry at St John along side of Patrina Robinson. Angela faithfully attended bible studies and worship services on Sundays.
She fell in love with the fellowship, the word of God and the people of God and became a true worshipper as she battled sickness within her body. Angela was not perfect for she had her own struggles in life – yet a survivor and an overcomer in her sickness and circumstances of life!
Her relationship with God shifted and took on a new meaning, a new beginning and a new outlook on life – in her sickness as she experienced a real and personal love relationship with the Lord. She was that bright light in the room!
She loved St John Baptist Church family "The Nation!" One of her favorite worship song was "You Know My Name" by Tosha Cobbs-Leonard
Angela will be missed and the loving and wonderful memories of her, will always live deep down in our hearts! She lived life, laughed, and loved! In such a short period of time, she inspired, encouraged and touched so many lives! We thank you Angela!!!
She is survived by her Father, Homer William Cash, Sr and Mother, Barbara A Cash of Pisgah Forest NC. Her sister, Pastor Gwen Jones (Rev. Spencer Jones) of Etowah NC. Her brother, H. William Cash, Jr (Liza Cash) of Newton NC. Bonus brother, Lamar Moss (Valerie Moss) of Chesapeake Virginia.
Her Children, Bashia Gandy and Alexander Gandy, of Simpsonville SC. Nephews, Vic Foster, Jr, of Oklahoma. Brian Foster of Miami, Florida. Jamal Cash of South Carolina. Blake Cash of South Carolina. A great nephew Jamal Cash Jr. A niece, Shonese Jones of Knoxville, Tennessee and a great niece Brooklyn Cash. Many hosts of relatives, aunts, uncle, and cousins

Preceded her death at birth was two brothers, William Anthony Cash and Baby Cash.

A Memorial Service to honor the life of Ms. Angela Dorene Cash will be held at 12pm Saturday, February 19th at St. John Baptist Church locate 14 Legend Drive in Arden, NC.
https://www.averysmemorialchapel.com/obituary/Angela-Cash
I have fought the good fight, I have finished the race, I have kept the faith. – 2 Timothy 4:7